High Brightness Sun Readable Digital Screens
High Brightness Sun Readable Digital Screens
Interactive Touchscreen Tablets
Interactive Touchscreen Tablets
Mobile Digital LED Trailers
Our Digital LED trailers are highly durable & effective all seasons. They often get refereed as Portable Animated Billboards and are extremely eye catching. It can be placed and left anywhere some example are events, road sides, carparks and more…
Digital LED trailers allow you to change the location of your billboard as you see fit which create extra exposure for your company, and boost revenues.
Our Digital LED trailer is Simple to transport – just attach the towbar to a vehicle and it's practically a mobile promotional screen.
It needs only one person to operate – towing the trailer, setting up the LED screen and operating the screen is extremely easy and can be done by yourself.
Additionally, The stabilizing legs mean that no platform or structures are needed to set up the LED screen. Because of this, our mobile Digital LED trailer solution saves money and time with no extra staff needed.
Digital Screen Displays
We specialise in all aspects of Digital Signage. From supply, installation, management, to dynamic content creation, we can help you with all your Digital Signage requirements. We have supplied and installed screens across a broad spectrum of businesses including shopping centres, retailers, theatres, hotels, restaurants and product showrooms.
Digital Signage enables you to reach your chosen audiences in real time, you can update content via USB or instantly on the fly from any remote location. With vibrant dynamic eye grabbing messages digital screens command attention and are proven to improve communications with your customers, enhance the viewers experience and increase sales.
We have developed a unique product called Digipop™ which is a mobile advertising screen contained in a flight case for quick deployment; idel for tradeshows, conferences and mall demonstrations as well as in store promotions and floor plan layouts.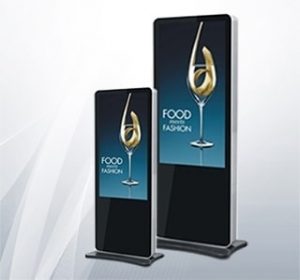 Read about some of our recent news