Large Format Wayfinders
Our Touch Wayfinder provides hospitals, shopping centres, universities, and office buildings with a user friendly, touch-based interactive wayfinding application for people visiting their sites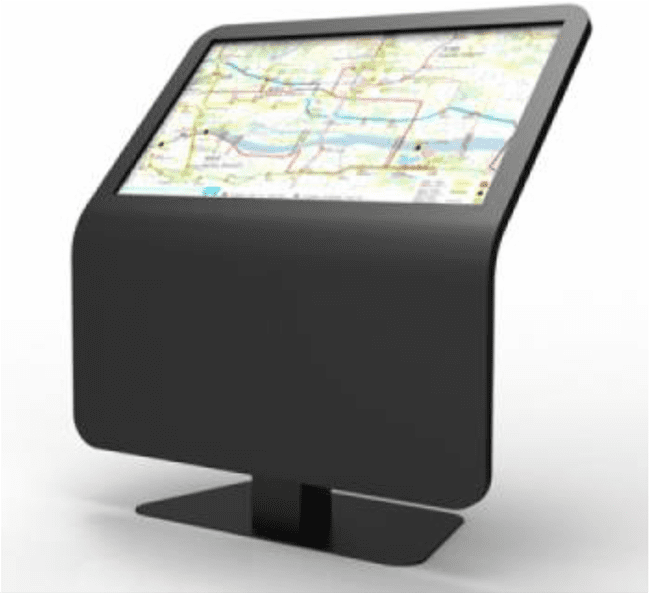 Free Standing Way Finder
Features:
Built for 24/7 commercial use.
Interactive Touch Screen.
HD screen with wide viewing angle.
Embedded 'Intel Core i3 Processor' PC media Player with built in Wi-Fi.
Powered by Windows Operating system.
Supplied with cloud-based digital signage software for advanced content management.
Includes multiple inputs should you wish to connect screen to an external source.
Inputs are kept secure within a lock-protected compartment on the rear.
Applications:
Shopping centres
Department stores
Showrooms
Airports
Train/bus stations
Museums
Hotel lobbies
Hospitals
Wayfinding Solutions
People today are accustomed to having some degree of freedom in how they access information. Institutions of all types can take advantage of digital wayfinding to give their audiences a more modern approach to navigating their properties and getting where they need to go.
Top benefits of installing a way finder:
Interactive wayfinding is "Self-Service" and reduces the requirement for staff to help direct visitors to their location.
It offers a more positive visitor experience by reducing frustration so visitors are more likely to return.
With path mapping, you can provide the options to print directions or send them to a mobile phone.
Searching and interactive directory instead of a static list allows people to filter large lists of names alphabetically, by department, position, etc.
The pictures here are examples of 55" Touch Screen Way Finders we have installed in Ashbourne Town Centre.
We provide Way Finders from 21" upwards. To arrange a viewing in our Showroom in Dundalk contact us..


Where Can This Product Be Used?
Testimonials
"We have never seen more tangible results in our 35 years in business. From the moment we had our Digital Signage installed by Digital Screen Displays, we started boosting our sales. We saw the results build every week. We've never seen better, more immediate results from a marketing spend: from improved customer service to broader brand awareness to higher sales. I would recommend Digital Screen Displays to any company thinking of taking the step into Digital Signage".

Mullens Takeaway - Proprietor