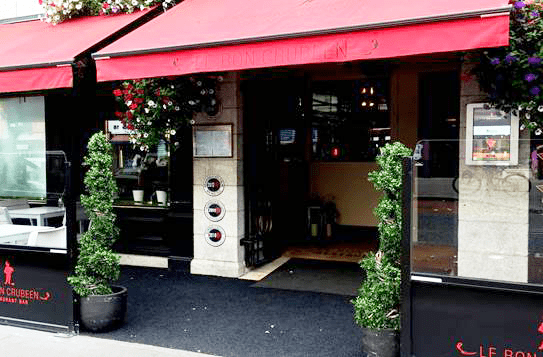 Digital Screen Displays recently installed a suite of 27″ Digital Interactive Touchscreens at Le Bon Crubeen and it's sister pub The Celt Bar.
These Digital Outdoor touchscreens allow users of both venues to browse Le Bon Crubeen Menu in a range of different languages.
This is a bespoke install, tailored specifically to our clients needs ant the easy-to-use interactive multi-language menu is proving to be very popular!
Using the latest technology Digital Screen Displays gives food retailers such as Le Bon Crubeen the potential to turn their traditional, static menu display into vibrant, eye catching and dynamically changing digital menu.
With Digital Screen Displays, our scheduling software allows you to time your messaging i.e from 9-12 breakfast menu appears, from 12-2 lunch menu appears, from 2-5 afternoon specials and from 6 onward evening specials.
Our Digital Menus are fully networked, allowing scheduling and content control from any location worldwide.
[vc_row][vc_column][vc_column_text]
Digital Screen Displays are experts in all aspects of Digital Signage. We offer a full Consultation, Design and Installation Service. For more information on our services, call us now!
[/vc_column_text][/vc_column][/vc_row][vc_row][vc_column width="1/2″][mk_image src="https://digitalscreendisplays.ie/wp-content/uploads/2018/05/le-cbron-min.png" image_width="547″ image_height="357″][/vc_column][vc_column width="1/2″][mk_image src="https://digitalscreendisplays.ie/wp-content/uploads/2018/05/Thecelt-min.png" image_width="547″ image_height="357″][/vc_column][/vc_row]