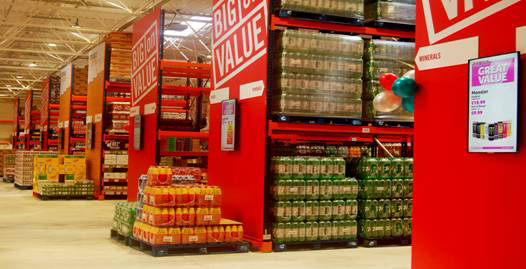 A company like Value Centre needs next to no introduction. As part of BWG Foods, one of Ireland's leading food retail and wholesale companies, Value Centre is a well known industry giant.
Value Centre has been in existence for over 40 years, and in recent years there has been significant investment made in upgrading the branch network in order to improve efficiencies and deliver a more positive customer shopping experience.
Through their retail and wholesale businesses they serve more than 14,000 customers across the Republic of Ireland. With ubiquitous brands such as SPAR, EUROSPAR, MACE, XL, Xpress Stop they operate 870 community stores in partnership with local retailers.
One of the most important things Value Centre wanted to accomplish with their retail spaces design was build an immersive and interactive customer experience that would enable them to feature brand marking messages.
To achieve these goals, Value Centre asked Digital Screen Displays to create a technologically imaginative environment that would differentiate them from their competitors. The final design was the installation of 20 Networked Digital Screens throughout the new 60,000 sq/ft building.
Value Centre provides superior customer service striving to exceed the expectations of all our customers. The company can now deliver ongoing high quality fresh content to in-store customers at the click of a button.
Below you can see some further images on the completed project.
Digital Screen Displays are experts in all aspects of Digital Signage. We offer a full Consultation, Design and Installation Service.